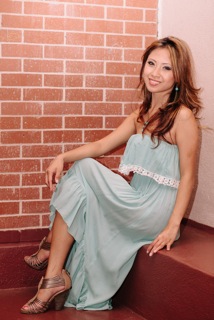 NIKKI SANCHEZ, Owner & Lead Lash Artist
Nikki Sanchez began her professional career 10 years ago as a Licensed Massage Therapist, Chiropractor's Assistant, and Post-Operative Skin Specialist.  She also worked for physical therapy clinics and hotel spas throughout Honolulu.  In addition to her full time job, she hosted weekly "beauty bars" at local venues and attended beauty school where she successfully obtained her license in Esthetics.
Nikki settled into a local salon for six years providing services in massage, facials, nails, waxing and eyelash extensions.  In providing those various services, Nikki discovered her true passion: Lash Extensions and Waxing.  These two services were what her clients could not get enough of…a true beauty addiction! In those years, Nikki perfected her skills by working on many clients and loving the outcome on each and every customer.
When Nikki's clients walk out her salon's door feeling better about themselves than when they walked in, it only fuels her passion and reminds her what she loves most about her job. "I find it very rewarding that I can help make someone feel that much better about themselves," Nikki says as she reminisces on how her business came to be.
Astounded by the high prices of Eyelash Extensions offered by her competitors in the city who use the same quality of Eyelash Extensions and Wax products, Nikki had the idea to provide this same service and same quality of products to people but at a fraction of the cost. She believes everyone deserves to look and feel beautiful at an affordable price. With that in mind, Nikki ventured out and started her own business in the heart of Honolulu and befittingly named it, "LASH LOVE, Lash & Wax Boutique."
Live, Lash, Love!
LYN GABRIEL, Lash Artist
Lyn is a talented lash and makeup artist, wife, and a mother of 3.  Before Lyn's decision to pursue a career in makeup artistry, she worked at the Department of Education for 5 years as a Para Professional Trainer working with special needs children. Juggling her job as a trainer and being a mother of 3,  Lyn found her time limited in pursuing her passion as a makeup artist. Still, she stayed determined and enrolled in Susan Page Modeling Agency where earned her certification in Makeup Artistry.  Thereafter, she began a career as a freelance makeup artist for 4 years. Professional photographers recognized her skills and began hiring her to work along side them at professional fashion photo shoots, weddings, and special events.
Her interest in eyelash extensions first sparked when her cousin, Lash Love owner, Nikki, hired her to professionally apply make-up for a lash extensions model. It was there that Nikki realized Lyn's potential as a Lash Artist. In light of Lyn's natural eye for beauty, precision and detail, Lyn's extensively trained in the application of eyelash extensions and now proudly applies her eyelash skills to her clients at Lash Love, Lash & Wax Boutique!